Kaspien (NASDAQ:KSPN – Get Free Report) announced its quarterly earnings data on Tuesday. The company reported ($0.23) EPS for the quarter, beating the consensus estimate of ($0.84) by $0.61, MarketWatch Earnings reports. The firm had revenue of $33.14 million for the quarter. Kaspien had a negative return on equity of 1,013.63% and a negative net margin of 12.96%.
Kaspien Price Performance
Shares of NASDAQ KSPN opened at $0.13 on Thursday. The stock has a market capitalization of $647,932.50, a P/E ratio of -0.03 and a beta of 0.82. Kaspien has a one year low of $0.13 and a one year high of $2.64. The firm's 50 day simple moving average is $0.16 and its two-hundred day simple moving average is $0.39.
Institutional Investors Weigh In On Kaspien
A hedge fund recently bought a new stake in Kaspien stock. SVB Wealth LLC purchased a new position in Kaspien Holdings Inc. (NASDAQ:KSPN – Free Report) in the 2nd quarter, according to its most recent Form 13F filing with the Securities and Exchange Commission (SEC). The fund purchased 14,392 shares of the company's stock, valued at approximately $36,000. SVB Wealth LLC owned about 0.58% of Kaspien as of its most recent SEC filing. 0.29% of the stock is currently owned by institutional investors.
Kaspien Company Profile
(
Get Free Report
)
Kaspien Holdings Inc operates an e-commerce services provider. Its platform of software and services enable brand's online distribution channel on digital marketplaces, such as Amazon, Walmart, Target, and others. The company's technology-enabled retailer that delivers brand partners across Amazon.com US, Amazon.com Canada, Target.com, and Walmart.com online marketplaces.
Further Reading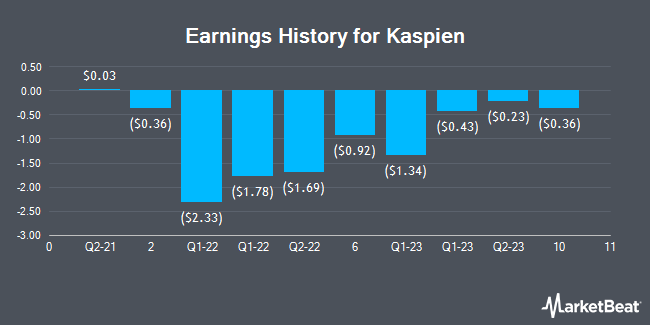 Receive News & Ratings for Kaspien Daily - Enter your email address below to receive a concise daily summary of the latest news and analysts' ratings for Kaspien and related companies with MarketBeat.com's FREE daily email newsletter.