Ryvyl (NASDAQ:RVYL – Get Rating) posted its quarterly earnings results on Monday. The company reported ($0.15) EPS for the quarter, missing analysts' consensus estimates of ($0.08) by ($0.07), MarketWatch Earnings reports. The company had revenue of $11.29 million during the quarter, compared to the consensus estimate of $12.30 million. Ryvyl had a negative return on equity of 146.45% and a negative net margin of 72.87%. During the same quarter in the previous year, the company posted ($0.13) earnings per share.
Ryvyl Trading Up 6.4 %
Shares of RVYL stock traded up $0.03 during mid-day trading on Wednesday, hitting $0.46. 80,237 shares of the stock traded hands, compared to its average volume of 223,665. The stock's fifty day moving average is $0.51 and its two-hundred day moving average is $0.58. Ryvyl has a 52-week low of $0.27 and a 52-week high of $2.86. The company has a debt-to-equity ratio of 1.71, a quick ratio of 1.60 and a current ratio of 1.61.
Institutional Trading of Ryvyl
Several hedge funds have recently modified their holdings of the company. CVI Holdings LLC purchased a new stake in shares of Ryvyl during the first quarter valued at about $515,000. Geode Capital Management LLC purchased a new stake in shares of Ryvyl during the first quarter valued at about $81,000. Renaissance Technologies LLC purchased a new stake in shares of Ryvyl during the first quarter valued at about $41,000. Finally, BlackRock Inc. purchased a new position in shares of Ryvyl in the 1st quarter valued at approximately $84,000. 18.11% of the stock is owned by hedge funds and other institutional investors.
Wall Street Analysts Forecast Growth
Separately, HC Wainwright initiated coverage on shares of Ryvyl in a report on Wednesday, February 22nd. They issued a "neutral" rating on the stock.
About Ryvyl
GreenBox POS, a technology company, engages in the development, marketing, and sale of blockchain-based payment solutions. Its blockchain-based systems facilitate, record, and store a volume of tokenized assets, representing cash or data, on a blockchain-based ledger. The company's products include QuickCard Payment System, a physical and virtual cash management system, including software that facilitates deposits, cash, and e-wallet management; point of sale solutions comprising software and hardware; and Loopz software solution, a mobile delivery service operations management solution with automated dispatch functionality.
Recommended Stories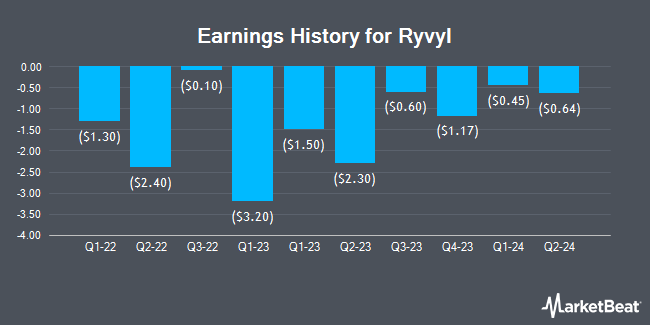 Receive News & Ratings for Ryvyl Daily - Enter your email address below to receive a concise daily summary of the latest news and analysts' ratings for Ryvyl and related companies with MarketBeat.com's FREE daily email newsletter.