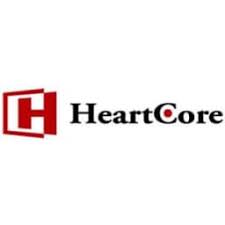 HeartCore Enterprises (NASDAQ:HTCR – Get Rating) released its quarterly earnings data on Monday. The company reported $0.10 EPS for the quarter, topping analysts' consensus estimates of ($0.03) by $0.13, MarketWatch Earnings reports. HeartCore Enterprises had a negative net margin of 21.06% and a negative return on equity of 47.19%. The firm had revenue of $8.73 million for the quarter, compared to the consensus estimate of $2.10 million.
HeartCore Enterprises Stock Up 92.2 %
Shares of NASDAQ HTCR opened at $2.46 on Wednesday. HeartCore Enterprises has a 12-month low of $0.78 and a 12-month high of $3.43. The company has a market capitalization of $51.27 million, a PE ratio of -13.67 and a beta of 1.60. The company has a debt-to-equity ratio of 0.23, a current ratio of 2.34 and a quick ratio of 2.34. The firm's 50-day moving average is $1.04 and its two-hundred day moving average is $1.05.
Institutional Trading of HeartCore Enterprises
A hedge fund recently bought a new stake in HeartCore Enterprises stock. Citadel Advisors LLC purchased a new stake in HeartCore Enterprises, Inc. (NASDAQ:HTCR – Get Rating) during the 3rd quarter, according to the company in its most recent disclosure with the Securities & Exchange Commission. The institutional investor purchased 37,339 shares of the company's stock, valued at approximately $46,000. Citadel Advisors LLC owned approximately 0.21% of HeartCore Enterprises at the end of the most recent reporting period. Institutional investors and hedge funds own 0.37% of the company's stock.
About HeartCore Enterprises
(
Get Rating
)
HeartCore Enterprises, Inc, a software development company, provides Software as a Service solutions to enterprise customers in Japan and internationally. Its customer experience management platform includes marketing, sales, service, and content management systems, as well as other tools and integrations, which enable companies to enhance the customer experience and drive engagement.
Featured Articles
Receive News & Ratings for HeartCore Enterprises Daily - Enter your email address below to receive a concise daily summary of the latest news and analysts' ratings for HeartCore Enterprises and related companies with MarketBeat.com's FREE daily email newsletter.