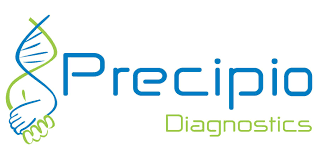 Precipio, Inc. (NASDAQ:PRPO – Get Rating) Director Richard A. Sandberg acquired 20,000 shares of the company's stock in a transaction on Friday, January 20th. The stock was purchased at an average cost of $0.78 per share, for a total transaction of $15,600.00. Following the completion of the transaction, the director now owns 40,846 shares in the company, valued at approximately $31,859.88. The purchase was disclosed in a document filed with the SEC, which is available at this link.
Precipio Stock Down 2.4 %
Shares of NASDAQ:PRPO traded down $0.02 during trading hours on Monday, reaching $0.80. The stock had a trading volume of 67,964 shares, compared to its average volume of 121,047. The company has a debt-to-equity ratio of 0.01, a quick ratio of 1.53 and a current ratio of 1.68. The firm's 50 day moving average is $0.68 and its 200-day moving average is $0.92. The stock has a market capitalization of $18.26 million, a price-to-earnings ratio of -1.54 and a beta of 2.16. Precipio, Inc. has a 1 year low of $0.47 and a 1 year high of $1.77.
Precipio (NASDAQ:PRPO – Get Rating) last posted its earnings results on Thursday, November 10th. The biotechnology company reported ($0.14) EPS for the quarter. The company had revenue of $2.22 million during the quarter. Precipio had a negative net margin of 128.09% and a negative return on equity of 56.55%.
Institutional Inflows and Outflows
A hedge fund recently bought a new stake in Precipio stock. Great Valley Advisor Group Inc. purchased a new position in shares of Precipio, Inc. (
NASDAQ:PRPO
–
Get Rating
) in the second quarter, according to the company in its most recent filing with the Securities and Exchange Commission. The institutional investor purchased 33,100 shares of the biotechnology company's stock, valued at approximately $35,000. Great Valley Advisor Group Inc. owned 0.15% of Precipio at the end of the most recent reporting period. 9.62% of the stock is currently owned by hedge funds and other institutional investors.
About Precipio
Precipio, Incis a cancer diagnostics and reagent technology company, which provides diagnostic products and services to the oncology market. Its products include ICP, HemeScreen, and IV-Cell, and services include primary diagnostic, SmartPath, SmartGen, HemeScreen Panel, and ICE COLD-PCR. The company was founded on March 6, 1997 and is headquartered in New Haven, CT.
See Also
Receive News & Ratings for Precipio Daily - Enter your email address below to receive a concise daily summary of the latest news and analysts' ratings for Precipio and related companies with MarketBeat.com's FREE daily email newsletter.