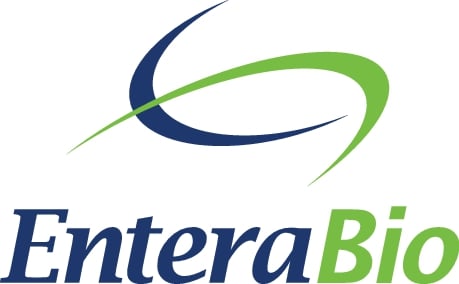 Entera Bio Ltd. (NASDAQ:ENTX – Get Rating) was the target of a significant increase in short interest during the month of December. As of December 30th, there was short interest totalling 61,100 shares, an increase of 8.5% from the December 15th total of 56,300 shares. Based on an average daily trading volume, of 124,800 shares, the days-to-cover ratio is currently 0.5 days.
Entera Bio Stock Up 4.3 %
Shares of ENTX traded up $0.04 during mid-day trading on Tuesday, hitting $0.96. 13,256 shares of the company traded hands, compared to its average volume of 90,157. Entera Bio has a 1-year low of $0.47 and a 1-year high of $3.00. The business has a 50 day moving average of $0.73 and a 200 day moving average of $1.08. The company has a market capitalization of $27.65 million, a PE ratio of -6.82 and a beta of 1.75.
Entera Bio (NASDAQ:ENTX – Get Rating) last issued its quarterly earnings results on Thursday, November 10th. The company reported ($0.11) earnings per share for the quarter, topping the consensus estimate of ($0.16) by $0.05. Entera Bio had a negative net margin of 1,796.49% and a negative return on equity of 27.72%. The company had revenue of $0.01 million for the quarter, compared to the consensus estimate of $0.07 million. As a group, research analysts expect that Entera Bio will post -0.47 EPS for the current fiscal year.
Insider Buying and Selling at Entera Bio
In related news, CEO Miranda Jayne Toledano acquired 50,000 shares of the business's stock in a transaction dated Friday, November 11th. The shares were purchased at an average price of $0.53 per share, for a total transaction of $26,500.00. Following the completion of the acquisition, the chief executive officer now directly owns 56,800 shares in the company, valued at approximately $30,104. The transaction was disclosed in a document filed with the SEC, which is available through
this link
. Insiders own 5.15% of the company's stock.
Hedge Funds Weigh In On Entera Bio
A hedge fund recently bought a new stake in Entera Bio stock. PNC Financial Services Group Inc. purchased a new position in Entera Bio Ltd. (NASDAQ:ENTX – Get Rating) during the 1st quarter, according to the company in its most recent filing with the SEC. The institutional investor purchased 10,000 shares of the company's stock, valued at approximately $29,000. Institutional investors and hedge funds own 20.12% of the company's stock.
About Entera Bio
Entera Bio Ltd. is a clinical-stage biopharmaceutical company, which engages in the development and commercialization of orally delivered large molecule therapeutics. It s pipeline include PTH, GLP-E, and hGh, The company was founded on September 30, 2009 and is headquartered in Jerusalem, Israel.
Featured Articles
Receive News & Ratings for Entera Bio Daily - Enter your email address below to receive a concise daily summary of the latest news and analysts' ratings for Entera Bio and related companies with MarketBeat.com's FREE daily email newsletter.